Cook Baked French Fries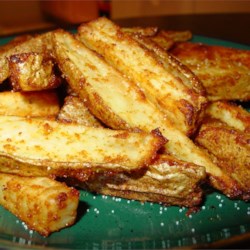 INGREDIENTS :
1 large baking potato
1 tablespoon olive oil
1/2 teaspoon paprika
1/2 teaspoon garlic powder
1/2 teaspoon chili powder
1/2 teaspoon onion powder

PREPARATIONS :
1.Preheat oven to 450 degrees F (230 degrees C).
2.Cut potato into wedges. Mix olive oil, paprika, garlic powder, chili powder and onion powder together. Coat potatoes with oil/spice mixture and place on a baking sheet.
3.Bake for 45 minutes in preheated oven.
This is an easy way to make a great side dish for burgers!"
HOW TO COOK HAMBURGERS :